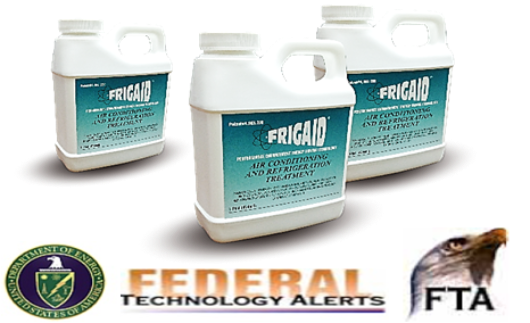 FRIGAID® was developed by 3 NASA scientists in 1990s. It is a nano-technology recommended by the Federal Energy Management Program (FEMP) of the Department of Energy (DOE) in USA.
In 1994, President Clinton issued the Executive Order #12902 , mandating all Federal buildings to reduce 30% of energy consumption and promote Energy Service Companies (ESCOs) . FRIGAID® was selected and implemented by the Department of Defense, DOD, at the Pentagon and Maxwell Air force Base.
In HVAC systems, carbon deposits and stagnant oil can cause significant degradation of thermal performances in heat exchangers like condensers and evaporators. The excessive friction loss can also cause higher power consumption. FRIGAID can tackle this problem by improving the heat transfer capacity of the chillers and increase lubricity by 1500%, so that power consumption of the compressors can be reduced significantly.
FRIGAID® is a Polarized Refrigerant Oil Additive , or PROA, for energy savings. FRIGAID differs from all other kinds of PROAs, and had obtained an US-patent with its molecular structure "α-olefin, recommended by the Federal Technology Alert,( FTA) in the U.S.A.None of the other PROA makers have obtained these purchase numbers, except FRIGAID.
FRIGAID® has been recommended as one of 18 new energy saving technologies screening from 54 approaches by the Federal Energy Management Program of the Department of Energy, USA.FRIGAID® is now commercialized for wide applications, not only in FEMP program, by also for the whole HVAC industry, representing its superb capability for energy savings.